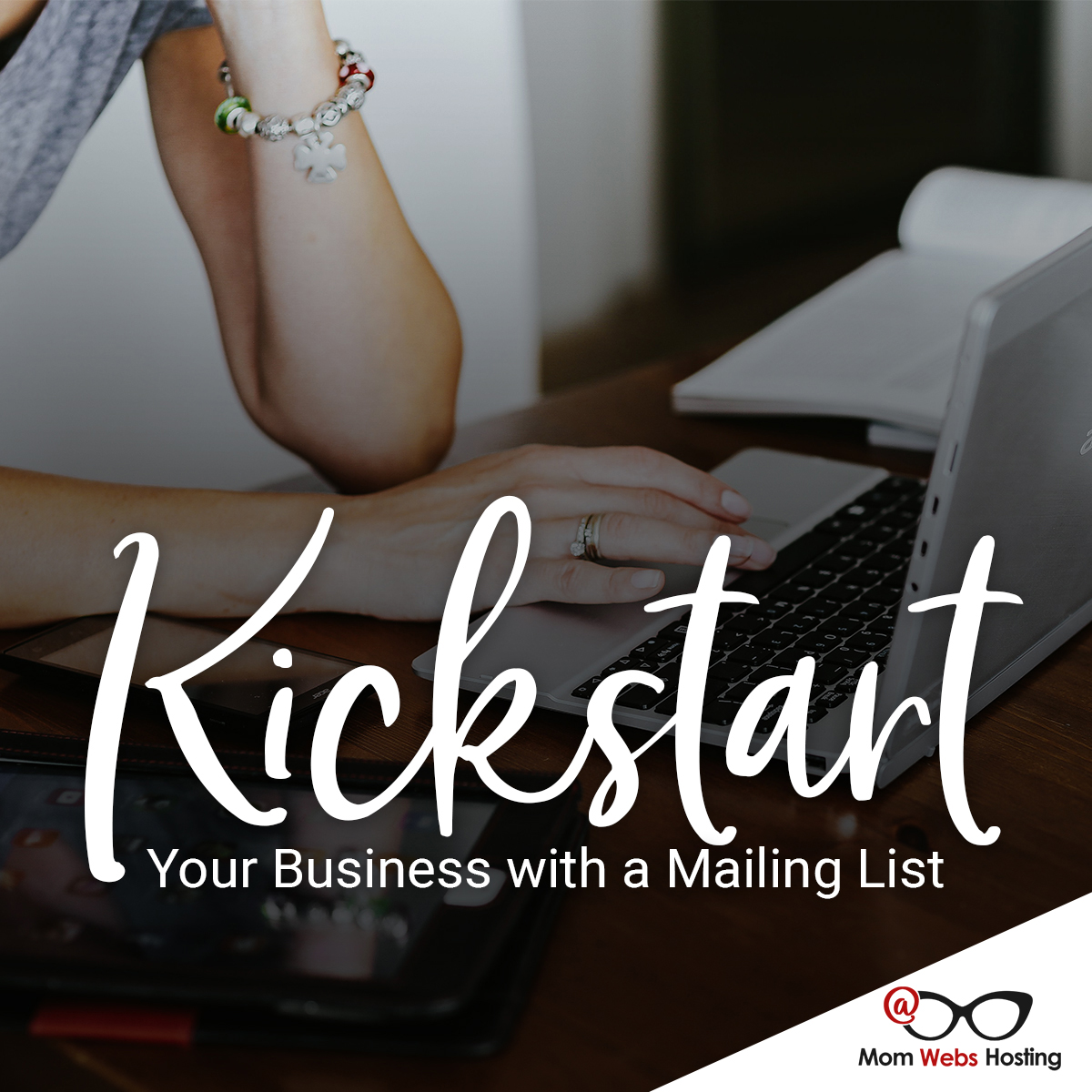 One of the most important elements of building a successful business is starting and building a mailing list. And that's what we're going to talk about today – building your email list. But first, let's take a look at some list building basics…
List Building Basics
Kerry started a website for new keto lifestyle. She enjoyed sharing her fitness journey. Although she'd originally meant for the site to be a hobby, she decided to turn it into a business thanks to the encouragement of some friends.
When Kerry reached out to a business coach, she wanted to know the first step she should take in her new venture.
"You want to start growing an email list," Her coach explained, "You can do this by offering a free gift. When visitors to your website sign up for the gift, it's delivered to them automatically. Their email address is kept in a database so you can email these subscribers again and again."
Start by Choosing a Service
Before you can begin building a list, you'll need to subscribe to a mailing list service. The mailing list provider will keep a copy of your subscribers' personal information so you can email them again in the future.
A budget-friendly option for new entrepreneurs is Aweber. A popular one, and the one I personally use (after having used Aweber for YEARS) is Active Campaign. There's also get or need custom help from a mailing list provider, then you'll want to give ConvertKit or Drip a try.
Create a List
Once you have an account with a mailing list service, you'll need to create your very first list. You can call this list whatever you like but in some cases, subscribers can see the title of the list. So, it's usually best to go with something generic like "Website Title Subscribers" or "Brand Name Subscribers".
Make Your Welcome Email
When someone subscribes to your new list, they'll be sent an email automatically. This is the welcome email and it's one of the first emails that your subscribers will see from you.
In your welcome email, you'll want to greet your subscriber. Thank them for signing up then provide a link to your free gift so they can download it. Remember, the opt-in freebie should be something that your visitors will find valuable.
Kerry's opt-in was a seven-day keto friendly menu. She did this so she could introduce newbies to the keto way of eating. In her welcome email, she included a link to the PDF that contained the menu.
Email Often
Some online business owners make the mistake of building an email list that they never message. They rarely email their subscribers and on the rare occasion that they do, they see a high number of unsubscribes. That's because they were quiet so long that subscribers forgot about their brand.
You don't want that to happen to your list, so make it a priority to email yours regularly. When you're first starting out, you want to send out a message 2-3 times a week.
Share Valuable Content
Of course, you shouldn't email your subscribers just to say you did it. You need to send emails with valuable information inside. If your list doesn't feel they're getting anything helpful from you, they'll stop reading your emails.
Think of quick tips that you could easily share with your audience. Kerry often emailed her list with sugar-free dessert recipes, ideas on how to make popular dishes keto-friendly, and thoughts about her own food log. Sending this information helped her subscribers connect with Kerry and open her emails.
Starting your own list can be fun and exciting. But remember, that your goal is to help your people. By sharing useful information, you're serving your community and they'll appreciate that.
Participate in Giveaway Events
One simple way to grow your mailing list is to participate in giveaway events. If you've never been part of a giveaway, you might be wondering what happens during one. Here's how they typically work: one business owner decides to create a giveaway. She asks other online business owners to contribute a product of their own.
After the giveaway goes live, people can sign up for it. They typically give their email address and name. In exchange, they receive instructions on how to claim their goodies from each of the business owners. Then they use a coupon code or special link to access the product you're giving away.
The advantage of contributing a product is that it grows your list. Depending on the giveaway you're joining, you may get hundreds or even thousands of sign ups. Plus, you get to form valuable relationships with other online business owners.
So, if you're interested in participating in a giveaway, how do you get started? Begin by following some of these tips…
Look for Giveaways
Before you can participate, you need to find the giveaways. Go to your business groups on Facebook or LinkedIn. Make a post and ask for giveaway recommendations. You'll probably have a few comments that can get you going in the right direction.
You may also want to try using a search engine. Go to Google and type in the names of marketers you know and the word giveaway. For example: Kelly McCausey + giveaway event. Another word that may be useful is "free summit". For example: Angela Wills + free summit.
Make a Product
Once you have a few giveaways that you'd like to participate in, you need to create a product. Don't panic if you've never made a product. You can create one easily by using white label content from Coach Glue or Piggy Makes Bank.
Simply buy a white label product, add your own branding and upload it to your website. Just make sure your product is relevant to your business.
If you sell essential oils, then creating a product on Google Analytics isn't likely to attract your target customers. But if your product was about natural cleaning solutions, then your ideal audience would enjoy your product and happily download it.
Write 2-3 Emails
A requirement for many participants in a giveaway event is that they email their list. Even if you only have one subscriber, create a series of emails about the event.
Your first message could be about the giveaway and how excited you are to be part of it. In the second message, talk about the giveaway and highlight a few products that might appeal to your subscribers.
Your third message should be sent to your subscribers on the final day of the event. Mention how much you've enjoyed the event then remind your list that it's the last day to claim their freebies. Encourage them to sign up so they don't miss out.
Don't Be Bummed…
Some (but not all) giveaways have certain requirements. For example, one host only wants contributions from business owners who have a list of 5,000+ subscribers. Others may want you to have a product on a specific topic in order to participate.
If you see these giveaways, don't get discouraged. Keep a list of them and when you've grown your list or have a product on that topic, you can join next time.
Participating in giveaways is fun and rewarding. But there is some initial set up work to make sure everything flows smoothly for your new subscribers.
Using Video to Grow Your List
Kerry had started her very first list. But she wanted to grow it quickly so she asked her business coach for suggestions on what to do. Her coach recommended she post videos to social networks.
"But each network is different in the types of content that your viewers expect as well as how long your videos can be," her coach explained. She went on to share these tips with Kerry…
Facebook Live for Discussions
Facebook Live is one of the best social networks for getting engagement in the form of likes, comments, and messages. It's also the social network where viewers stay the longest. That means followers are more likely to watch your videos all the way to the end, rather than abandoning them halfway through.
When you start a broadcast (live video) on Facebook, the social network begins letting your friends and followers know that you're on video. This notification system boosts the number of viewers you get.
But Facebook doesn't start telling your followers about your video until you've been recording for around 10 minutes. Many of your viewers will expect a longer video as well. So you'll want to plan to be on Facebook Live for at least 15-20 minutes.
Instagram Stories for Behind-the-Scenes
While Facebook Live is great for discussions, Instagram Stories are designed to feel a bit more personal. That means they're perfect for behind-the-scenes moments and quick check-ins.
Keep in mind that Instagram Stories are limited to sixty seconds or less. That makes it easy for you to create a lot of content but it also means you need to keep things brief. If you have a large amount of information to share, try to break it up over the course of several stories.
YouTube Videos for Search Results
When it comes to videos, don't overlook YouTube videos. Kerry's coach explained that YouTube is considered the second most popular search engine in the world. That means you can send a lot of traffic back to your website or blog by simply posting videos to YouTube.
But YouTube video content is different from Facebook Live or Instagram Stories. The content on YouTube tends to be educational in nature.
It's also expected to be more polished and less "off the cuff" than other video sites. For this reason, you'll want to use YouTube for tutorials, product demos, DIY content, and tips or "hacks" that your audience would find helpful.
Have a Link Ready
In your video, you'll want to invite your viewers to check out your website. But take it a step further and provide a link. This link should be a landing page with an offer for a free gift with a sign up option. When visitors fill out the form, they should be automatically added to your email list so you can contact them in the future.
Video can be a wonderful way to reach your community and grow your list. But before you press record, make sure you have a few content ideas and a landing page prepared. This will make your videos flow much smoother and be a more enjoyable experience for both you and your viewers.
Guest Blog on Popular Websites
When you first start out online, it can be hard to get any traction. You know you have a great message and you know who your ideal audience is, so why is it so hard to get their attention?
In order to begin growing your list and attracting customers, you need a large platform to send traffic to your website. You can borrow someone else's platform (and their traffic) by guest posting on a popular website. Here's how to do just that….
Find Popular Blogs
The first thing you'll want to do is create a list of popular blogs. You can find these sites by using a search engine. Look for your niche and the word 'guest post' or 'guest contributor'. For example, your search might look like this: "natural skin care + guest post" or "skin care + guest contributor" (without quotations).
Once you find a few websites, look at the blogger's platform. How many subscribers do they have? How many followers on Instagram and Twitter? What about their Facebook page or group?
Ideally, you're looking for bloggers that have 10K-100K in followers and fans. You can reach out to bloggers with millions of followers but it can be much harder to get their attention since they typically receive hundreds of guest posts.
Read the Posts
After you've found a few bloggers that look like they might be a good fit for you, start reading their posts. You want to read the past 2-3 months of content. This ensures that you don't pitch an idea that they've recently covered.
As you read, look for gaps that the blogger may have forgotten to cover. For example, Kerry found a keto blog that would be a great fit for her audience. As she read posts on the site, she quickly discovered that the blogger hadn't talked about how to handle the holidays without abandoning the keto diet.
Engage in the Community
The next step you want to take is to interact with the blog's readers. You can do this by commenting on posts, participating in Twitter discussions, and joining in Facebook groups or commenting on Facebook Live videos.
Spend a couple of weeks on this task. Take your time to really get to know the community. Keep in mind that many of these people may very well become your subscribers in the future.
Follow the Guidelines
Many bloggers have submission guidelines on their sites. They explain what the blogger expects and gives you inside information that can be useful. For example, some bloggers prefer to only receive a "pitch" or short idea from you rather than a long blog post you've already written. Knowing this saves you time and effort.
Reach Out to the Blogger
Once you've read the guidelines, it's time to contact the blogger behind the scenes. The best way to do this is usually by email. However, some bloggers may prefer you fill out their contact form. When in doubt, use the method that the blogger asked for.
In your message, let the blogger know that you are a regular reader. If the blogger prefers a pitch, let her know what your idea is and give a brief outline of your post. If the blogger prefers to receive the full post, send it in the body of your email. This makes it less likely to be flagged as spam since you haven't added an attachment.
Guest blogging is a simple way to grow your mailing list. But it's not an instant process. It takes time to find good blogs and build a rapport with the communities behind them.
Use Instagram & Pinterest to Kickstart Your List
Social networks are a great way to drive traffic back to your website and start building your mailing list. Two of the best sources of apps for doing this are Instagram and Pinterest. Both sites focus on images and videos to send people to your website. Here's what you need to know to harness these social media tools…
Create a Landing Page
When you have a freebie or gift that you give subscribers, make a separate page on your website for it. This page should be a landing page template. Many WordPress themes come with this template.
If you aren't using WordPress or you want another landing page option, you can try a service like LeadPages. Both websites will allow you to create landing pages and will guide you through the process so it's simple and easy.
Link to Your Landing Page
Both Instagram and Pinterest allow you to place a link in your bio area. Some online business owners link to their home page. While this may drive traffic back to their website, doing this make it harder to grow your mailing list.
When you send your followers to a landing page, they're more likely to sign up for your free offer. That's because they don't have as many choices that could potentially distract your visitors.
Make an Opt-In Board
Once you have your landing page up, it's time to add it to your Pinterest profile. Start by making a custom board for your opt-in gift. Then create 10-15 images that show off your freebie so other users will clickthrough and sign up.
Creating these additional images doesn't have to be hard. Just think about how you can display some of the content from your gift. For example, Kerry wanted to send traffic back to her opt-in, which was a 7-day keto-friendly eating plan.
She created 10 meal images. Then she pinned each image to her board named "Keto Start: 7 Day Meal Plan". Every image was linked to her landing page. This brought her a flood of visitors that were interested in joining her list so they could access the menu.
Link Your Instagram Stories
Instagram Stories are videos that are under 60 seconds. Not only are they wildly popular, they're great for sending traffic to a website. However, there are a couple of hurdles you may run into.
While any user can create an Instagram story, you can't make it link to a website of your choosing unless you meet two requirements. First, you need a business account (they're free and it's easy to upgrade to one) and second, you need 10,000+ followers.
If you're just starting out, getting 10K followers isn't that easy. So, when you create a story in Instagram, tag yourself. Then when users click on your Instagram story, they'll be taken to your profile. From there, they can click the link in your bio. It's not the most elegant solution but it gets the job done.
Using Pinterest and Instagram can be a fun way to drive traffic. Make sure you study what techniques are getting you the most engagement so you can duplicate your success again later.
Now that you have some list building basics as well as some list building opportunities, it's time to get into a habit of writing emails. I invite you to participate in the I Dare You to Email Challenge, kicking off January 1, 2021. The challenge is all about getting into a solid habit of writing emails. I provide encouragement, an abundance of email writing prompts and prizes to motivate action  😉