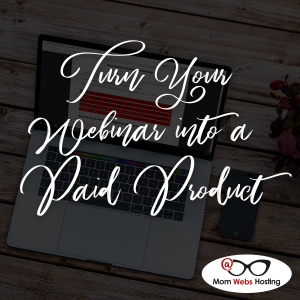 You've finished your first webinar and you feel amazing. You've grown your list, deepened your connection with your community, and had the chance to show off your smarts. Before you move onto your next project, spend some time making sure that your webinar continues to work for you. Here's what you need to do…
Check Your Recording
The first thing you'll need to do is to listen to your recording. Make sure it sounds clear and the words are easy to understand. If there's a lot of noise or it's difficult to hear, you may want to hire a virtual assistant who specializes in webinars, improve the sound quality for you.
Update Your Landing Page & Welcome Email
Now that your webinar is over, you'll want to update the landing page to mention that the event has passed but that they can still register to get the recording. Giving away the recording this way will keep a steady stream of new subscribers coming into your sales funnel.
After the landing page, tackle your welcome email. Make sure to provide the recording and the handout link. Visitors will want to access this gift right away so make sure this email sends as soon as a new subscriber joins your list.
Email Your List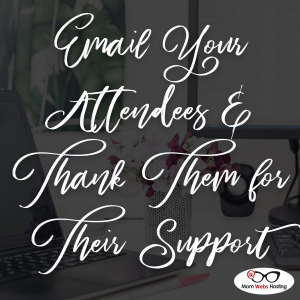 Don't forget to email your list of subscribers after your webinar. Thank them for attending and provide a link to the recording along with the handout.
If you made an offer at the end of your webinar, remind them of it. You could say something simple, "Remember, I only have enough space to take on five clients and spots are already filling. If you'd like to work with me, do [your call-to-action like fill out a form or reply to this message]."
Optional: Turn Your Webinar into a Product
If you used your webinar to educate your community, you can turn your webinar into a product to sell. Add 2-3 worksheets that will help your attendees implement what you taught as well as an audio version of your webinar. This will boost the value of your product in the eyes of your buyers.
Then bundle these extras with the original webinar and upload it to a host like Amazon S3. Put a buy button on your webinar page and charge visitors to access this content, just like you would for any other product.
What you decide to do with your webinar is up to you. There's no right or wrong answer. Just make sure you don't leave your webinar in a closet collecting virtual dust. You want to keep this content fresh so you can promote it again and again for years to come.
Speaking of webinars, if you're looking for a fun way to stretch yourself in September, why not join the Stretch Yourself Challenge? One of the challenges you can pick from is hosting a webinar 😉