Get to know our client, Diana Walker! 
About Diana:
For over 30 years, I have assisted health-minded people in using natural, safe, holistic options for creating vibrant health and well-being.
I am now in my early 70s, and I am pain-free and prescription-drug free, and leading a joyful, healthy, happy life, helping others also find solutions via holistic health and energy medicine.
I lead webinars and workshops, supporting people who want to lead healthier lifestyles. I suffered from PMS, mood swings, fatigue, and uncontrollable cravings. In 1996 I was introduced to Sunrider whole food plant-based, juiced and dried nutritional foods and beverages.
By the third month of eating and drinking these nutritious and delicious foods daily, my 8-year-old son said: "Mom, you don't have flames coming out of your head any more!".
What are you most proud of in your business?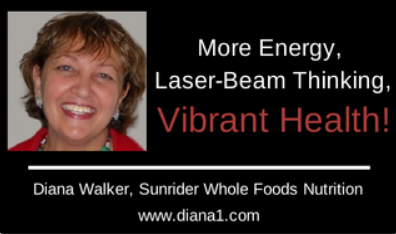 I am most proud and happy that my passion for holistic health and energy medicine continue to help me live a vibrant lifestyle and therefore I can be an example and an inspiration to others. I love how I can help health-minded people with real solutions for healthy living and I love hearing back from people when my Sunrider products and holistic health services have made a positive difference in others' lives.
How has Mom Webs hosting supported you?
I really, really appreciate Mom Webs Hosting. Scott was so helpful and available, when I transferred several websites to Mom Webs. In the past, I had trouble with 2 different hosting companies where I was not able to get a quick response.
The final straw was when I had been hacked on one website, and I ended up having all 4 of my sites being taken down for over 24 hours, while I paid $2,000 to have the one site cleaned!
Now I am so very grateful to have a reliable, responsive Web Hosting service with professional and helpful assistance when I need it. I am so happy to have found Mom Webs and really appreciate the peace of mind it gives me, knowing my websites are in safe hands.