Card decks are a unique, fun way to showcase your expertise. In this case, the card decks I'm referring to are not your typical pack of playing cards. Instead, these are what you may have heard referred to as affirmation cards, inspiration cards, or quote cards – just to name a few. Heck, you may even own a set… or two, or three, or more – not that I'm speaking from experience or anything 😉
Don't think creating a card deck means you have to come up with all new content. Because you don't! In fact, you can leverage more of the content you already have. For example, I took my popular Stretch Yourself Challenge and turned it into some bite-size card deck content. Unlike lots of other card deck creators, I do not sell my cards as a stand-alone product. I use them as bonuses.
Not sure you could use a card deck in your business? Check out this quick video, 11 Ways Different Businesses Use Card Decks, from the Queen of Card Decks Rosie Battista.
Rosie's step-by-step card deck creation course has helped lots of people publish their own card decks. Once students have completed and published their decks, Rosie interviews them. These interviews are a great way for you to see how unique and different card decks can be for different niches.
Here are some for you to check out:
Card Deck Creator Interview Series: Eat the Pickle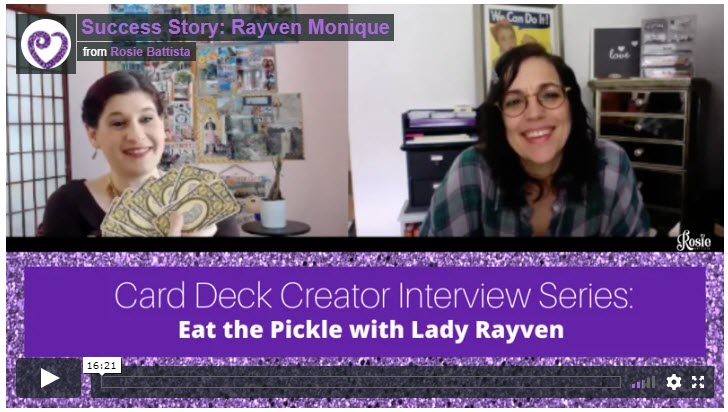 "Eat the Pickle" is a metaphor for being willing to experience the unexpected. Rayven says it's the fastest way to teach our bodies to embrace a new future – one that we intentionally manifest.
You can listen to the interview here.
Card Deck Creator Interview Series: Ponder or Pursue?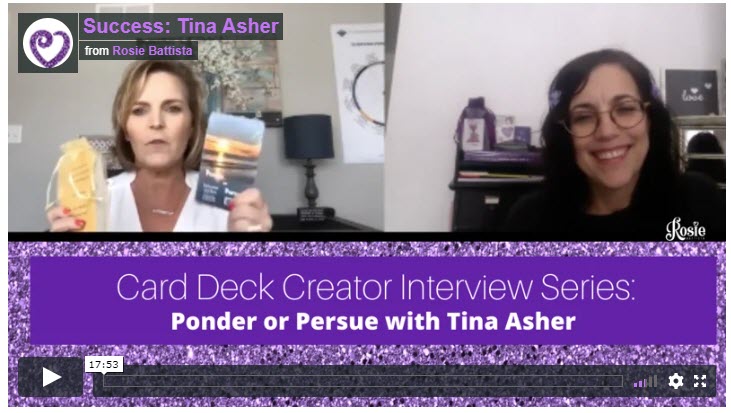 Rosie says: "I found while flipping thru Tina's cards that I had to dig deep to answer them. And then I thought, wow, how fun would this be to ask my partner and my kids these questions. What a great idea to leave a bowl of Ponder & Pursue cards on the coffee table! Imagine the conversations that can easily ignite, when they pull the card, "what are your pet peeves?"
You can listen to the interview here.
Card Deck Creator Interview Series: Stretch Yourself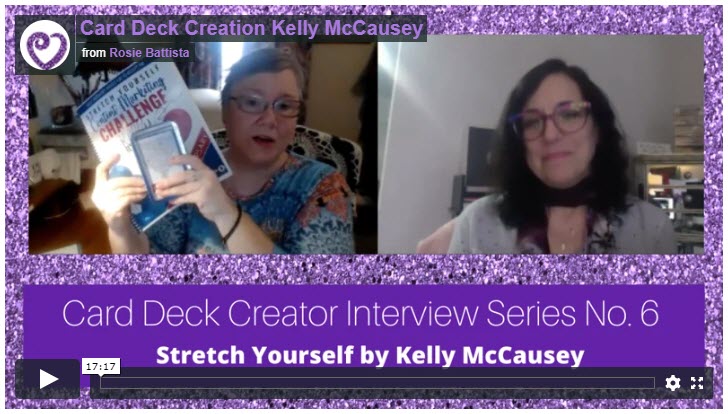 I'm all about Stretching Yourself and that's what I invite others to do with the card deck.
"Pick a card, lean in and ask what you want to do about it. There's always a next stretch for you and your business!"
You can listen to the interview here.
Card Deck Creator Interview Series: Bedtime Love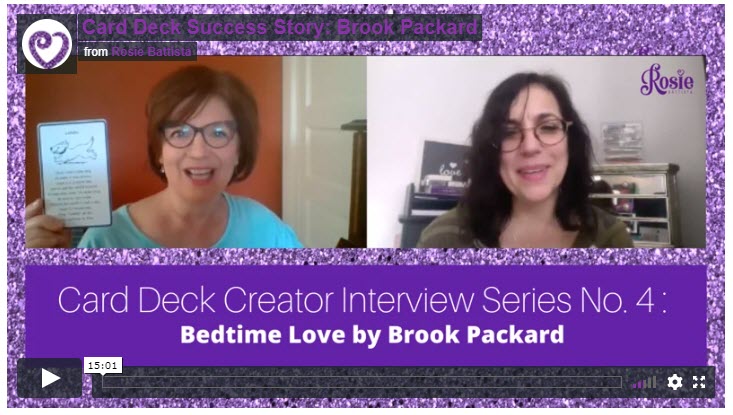 Brook Packard's "Bedtime Love" Card Deck is a fun and effective way to help our little ones fall asleep with love as well as learning life long healthy sleep habits and hygiene.
During Rosie's interview with Brook, she shares some of the reasons she is passionate about this topic, why she wanted a card deck to add to her Sleepytime product collection, her journey thru the creation process, and how she is using her card deck.
You can listen to the interview here.
Are you ready to put your awesome content into the hands of your tribe? If so, be sure to join Rosie's Card Deck Creation Course today!